Quotations and aphorisms by
Gene Wolfe

:

He's not rewarding us by talking to us. He's talking to us because He has something to say to us directly, as opposed to the things He says to all humanity.
~Gene Wolfe






Link:

I have read only the first 'Harry Potter' book. I thought it excellent, perhaps the best thing written for older children since The Hobbit. I wish the books had been around when my kids were the right age for them.
~Gene Wolfe






Link:

Whether the medium is ready for consumers is better judged by those consumers. I sometimes read online - but not often. The stigma is attached to pay scales. Much online publication is no pay or small pay.
~Gene Wolfe






Link:

You seem to think that the only genuine existence evil can have is conscious existence - that no one is evil unless he admits it to himself. I disagree.
~Gene Wolfe






Link:

Ambiguity is necessary in some of my stories, not in all. In those, it certainly contributes to the richness of the story. I doubt that thematic closure is never attainable.
~Gene Wolfe






Link:

My whole life experience feeds into my writing. I think that must be true for every writer. Clearly the Army and combat were major influences; just the same, you need to understand that many of the writers we have now couldn't load a revolver.
~Gene Wolfe






Link:

A youthful American voice isn't particularly challenging - I've been a young American, and they're all around me. I can walk from my house to Barrington High School.
~Gene Wolfe






Link:

Online publication is fine with me, in part because I hope to collect those stories later.
~Gene Wolfe






Link:

Knowledge is soon changed, then lost in the mist, an echo half-heard.
~Gene Wolfe






Link:

I don't think anyone is more intrinsically holy. People experience God in many ways; and it seems to me that God does what the rest of us do: He chooses the means that best gets His message across.
~Gene Wolfe






Link: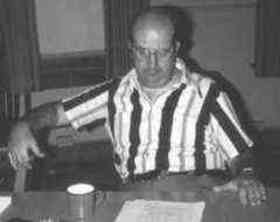 Find Gene Wolfe on Ebay!
Share:
Permalink:

Browse: