Quotations and aphorisms by
Gelsey Kirkland

:

You've got to break through this idea of being light as a ballerina. The heavier you'll feel, the lighter you'll look.
~Gelsey Kirkland






Link:

The voices of moral authority in the theatre demanded only punctuality and physical performance. In the light of continuing pressure and stress, the occasional lip service paid to moderation was meaningless. Starvation and poisoning were not excesses, but measures taken to stay within the norm.
~Gelsey Kirkland






Link:

As soon as you become afraid to make a fool of yourself, you're in trouble. I decided I may as well just see if I can live with myself making millions of mistakes and learn something from it.
~Gelsey Kirkland






Link:

I know my body. What happened is that I got so caught up in the applause I forgot how I should dance. All my life I've been what others wanted - in dancing and in life. Now I'm doing it my way.
~Gelsey Kirkland






Link:

I danced with passion to spite the music.
~Gelsey Kirkland






Link:

Often, when you've reached a very high level of achievement, you almost become paralyzed by the idea that anything you might do might be imperfect. Perfection is just the striving, the effort, the struggle, but it's hard to remember that.
~Gelsey Kirkland






Link:

There was a stage when Balanchine and I didn't talk. I was trying to develop my classical technique as opposed to the fast-track technique that he was pushing. We were very quiet with each other. But after two years he saw what I was doing and sent messages through other people that, yes, this is good.
~Gelsey Kirkland






Link:

At this stage of my life I would rather try and have some small impact within a company and suffer through those things than make such a big stink that nobody can trust to work with you. It's very important in an environment of a big institution that people don't feel threatened that you're going to expose them in any way.
~Gelsey Kirkland






Link:

The first year with ABT I learned 13 new roles. Most were lengthy ballets, more complicated than I was used to. I have suffered from tendinitis since I was 13, and it flared up again until the pain was paralyzing. There were times I prayed I'd be sick so I wouldn't have to go on.
~Gelsey Kirkland






Link: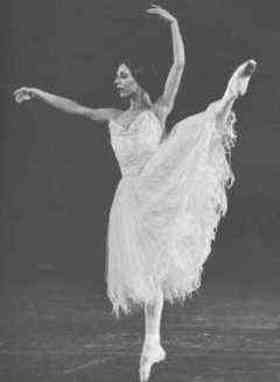 Find Gelsey Kirkland on Ebay!
Share:
Permalink:

Browse: