Quotations and aphorisms by
Evanna Lynch

:

They warned me, 'you're going to be doing the screen test with Daniel Radcliffe a week after the audition.' And then in the hair and make up department, he walked up behind and scared me. But you get used to him quickly because he tries to make you feel very welcome and at home.
~Evanna Lynch






Link:

My cats - I have Luna who's just had kittens recently and we called one of them Dumbledore. They're nice but they're not like their characters.
~Evanna Lynch






Link:

One week I was in school and the next I'm at Leavesden Studios in Dumbledore's office reading scenes with Daniel Radcliffe. Weird. And terrifying for such a huge 'Harry Potter' fan.
~Evanna Lynch






Link:

Well just meeting J. K. Rowling was amazing because she created all this world. And all the fans, we all get so obsessed with it and then you met the one person who made it all up. It was just so amazing. And I was just so amazed that that she wrote this book and all of the films have happened.
~Evanna Lynch






Link:

Sometimes I'm stressed and I'm sick of things and I need to forget about them for a while, so in Harry Potter you're taken to this wonderful imaginary world where everything is so different.
~Evanna Lynch






Link:

Sometimes, the other characters are too normal and then you start to be brought back to reality but then Luna shows up and she is just so funny and cool and honest and slightly mad and she's all that matters. She is 100% true. She puts on no shows, because she is so comfortable with herself.
~Evanna Lynch






Link:

It calmed me down to see that most of the time no-one gets the scene on the first take.
~Evanna Lynch






Link:

I got very carried away with my 'Harry Potter' life and we did have school but I didn't study. I just had fun.
~Evanna Lynch






Link:

It was this feeling the whole time like I shouldn't be here among all these stars and professionals. I was trying to keep my distance because I wanted to watch everyone. But they want you to feel at home and be part of it, and it became normal very quickly.
~Evanna Lynch






Link:

It wasn't like a Maths test where I have to strain to get it right. I feel very close to Luna so acting her was just natural. And if I had got too nervous I'd have done terribly.
~Evanna Lynch






Link:

People like her because she's like a breath of fresh air. Because in the fifth book it gets so dark and Harry's always cross and then every time Luna comes in all the tension goes and she makes you laugh because she's so funny and really honest. I don't know how much I'm like her, there are some similarities but I'm more determined than her.
~Evanna Lynch






Link:

While I was in London it was completely upside-down. I got a whole new life and it was a challenge to keep in touch with my life in Ireland, but it was great fun. Now though, I've been back home since November and gradually all connections with my HP life have been fading.
~Evanna Lynch






Link: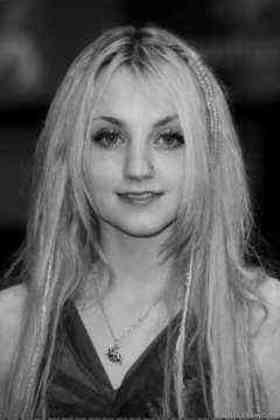 Find Evanna Lynch on Ebay!
Share:
Permalink:

Browse: