Quotations and aphorisms by
Dennis Haysbert

:

I like to think I'm multi-faceted. Actually, my favorite roles are roles like in 'Far from Heaven.' Y'know. Soft people. Loving people.
~Dennis Haysbert






Link:

I think I'd make a great superhero. I'm serious. I want to play a superhero, and I've already got one in mind. I think I've still got the body for the costume, and it's something I really want to do.
~Dennis Haysbert






Link:

If I weren't an actor, I'd either be a teacher or a critic.
~Dennis Haysbert






Link:

I played a little basketball, but basketball interfered with theater season. That's when we did our term plays and did nutshell versions of Shakespeare for English classes. And, believe me, I got a fair amount of looks from the guys on the team. 'You're in theater but you can play football?'
~Dennis Haysbert






Link:

When you work on big commercial movies, of course there's more money involved and you can still do some good work. But with an independent, you get films that are really close to the writers' and directors' heart. Somehow it becomes a little deeper. A little more meat and not as much flash.
~Dennis Haysbert






Link:

I've studied theater since high school. Of course, it's a different story altogether being on Broadway, but it's still theater, and you have to be in front of a live audience, and that's very exciting. It's something I've definitely wanted to do, but I got involved in movies and television, and then it became a luxury to get back on the stage.
~Dennis Haysbert






Link:

I would love a combination of action/adventure and... love. And stories told with heart. I would like people to be invigorated as well as moved. People to see the movie and see that. I love to play, y'know, well-rounded characters.
~Dennis Haysbert






Link:

Sometimes you have to laugh to keep from crying or getting overly angry or to maintain control.
~Dennis Haysbert






Link:

I took one thing to heart that I heard from Sidney Poitier in 'Guess Who's Coming to Dinner.' And it resonated so much with me. He says: 'Dad, you always looked at yourself as a black man. I look at myself as a man.'
~Dennis Haysbert






Link:

I love emotion. I love being in love. And showing that on screen. I think it's wonderful.
~Dennis Haysbert






Link: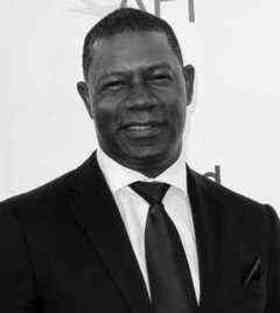 Find Dennis Haysbert on Ebay!
Share:
Permalink:

Browse: