Quotations and aphorisms by
Darren Star

:

In L.A., you just kind of come and have a nice hiking-yoga-gym life.
~Darren Star






Link:

When you're doing a single-camera show, it's more buying into a level of reality. I think a sitcom, a four-camera show, doesn't require that so much. I think with a film show, you just need the characters to grow.
~Darren Star






Link:

Male nudity, full-frontal nudity, has always been considered a lot more taboo than female nudity. As far back as I can remember, there's been a double standard between men and women. I think it's time that men get equal time in terms of nudity.
~Darren Star






Link:

I think women have such rich emotional lives that they are expressive about. I also think they're funny. I like watching strong female characters, and I like writing them. I don't know if it's conscious that I gravitate towards women, but it's certainly evolved that way.
~Darren Star






Link:

I realized early on I was not an actor. And it was a great thing to have that realization. To see actors and see what that talent is... it wasn't me.
~Darren Star






Link:

I've been on the board of UCLA Film and TV School, and I went to UCLA. I realized that the same movie theater that was there when I went to school, 30 years later is the same movie theater in the same condition. There was an opportunity to refurbish an existing room, and I jumped at the opportunity.
~Darren Star






Link:

Adversity creates comedy.
~Darren Star






Link:

Certainly when, you know, you put a lot of creative people together, there's ego and tension and all that stuff comes into play. But on the flip side, there's a lot of camaraderie and closeness.
~Darren Star






Link:

'Younger' is about reinvention and how age is very much a state of mind. I think the show is ultimately about reinvention. I do think it explores, ultimately, the differences between generations, through the prism of reinvention. That reinvention is possible.
~Darren Star






Link:

When 'Sex and the City' aired its first season, people didn't know about HBO as a place for original series. People weren't saying, 'Oh I've got to watch 'Sex and the City'!' They found it later. In some ways, it helped change what people thought of HBO.
~Darren Star






Link:

I think L.A. has got a great lifestyle, but I love New York. You couldn't do 'Broad City' in L.A. because L.A. is a much gentler place. The standard of living is so different.
~Darren Star






Link:

I think 'Sex and the City' is a chapter that will never close. In a wonderful way, it's always going to be an open chapter because it seems like new generations discover the show and relate to it, which is amazing, and you can't hope for that.
~Darren Star






Link:

Women are really emotional creatures, and men are kind of closed in terms of emotions. I think women are just a lot more out there.
~Darren Star






Link:

In general, I think writing characters, no one is 100 percent good or bad, and certainly, the bad characters never think they're bad themselves. Even the worst characters don't feel like they're bad guys on the inside.
~Darren Star






Link:

When I did 'Sex and the City,' it was like, 'Let's do a comedy where the humor is not coming from innuendo but from the a truthful place. This is a show where we're going to be able to say and do what we want.'
~Darren Star






Link:

The idea of viewers getting invested in a series is that you're getting invested in the reality of these characters' lives that, in fact, don't have an ending.
~Darren Star






Link:

I'm used to pressure. When writing must get done, I work in bed, on a bus, a train.
~Darren Star






Link:

In the moment when you're doing a show, you're thinking of that moment, but you don't think of, 'Here's down the line how people will be relating to the characters.' There's something very universal about 'Sex and the City' that people are still tapping into, where every generation seems to be discovering for itself.
~Darren Star






Link:

As a writer, it is always fun to imagine yourself in someone else's shoes.
~Darren Star






Link:

Cable's on fire. Traditional broadcast TV's hearing a death knell. I sample as much television as possible. I like 'Homeland,' 'Game of Thrones,' 'Veep.' Now reinvention's important.
~Darren Star






Link:

When I brought 'Sex and the City' to HBO, I wanted to do something independent, where I could be like, 'I don't care if anybody watches this thing. Just let me do something that I would love to see.' Honestly, the success of 'Sex and the City' was what was most surprising to me. It was sort of like the anti-TV-show in my mind.
~Darren Star






Link:

Network's rating dependent. A show might not stick. A lot's timing. Like, my Bradley Cooper in 'Kitchen Confidential' didn't always work. Cable supports young shows. TV Land, which you can find on Hulu, Amazon, iTunes, wanted 'Younger.' They came to me.
~Darren Star






Link:

I grew up in D.C. but always had a love affair with New York. I did 'Central Park West,' 'Sex and the City,' 'Law & Order.'
~Darren Star






Link:

When doing a series, I look for something that has an idea you can think about, something that I'm noticing and aware of and thinking about, because when you're doing a series, you think about more than just jokes... you know, when you're doing a comedy, you think about what's going to reflect people's experiences, in a way.
~Darren Star






Link:

I think certainly that looking for love is a big part of the show, but I think that if - there's one thing that is different about 'Sex and the City' and the message that I think has resonated with viewers, especially women. It's that you don't need to get married. You don't really need that love to be fulfilled.
~Darren Star






Link:

'90210' was looking at teenagers from a perspective that hadn't really been seen on television, though it had been seen in movies like some John Hughes films. I don't know if you want to say '90210' was real, but what the characters were going through was relatable - in a very glamorous environment.
~Darren Star






Link:

I love the idea of modern art in a home that isn't totally modern. There's a certain energy that comes out of that juxtaposition.
~Darren Star






Link:

I grew up feeling Israel is very important, and I'm very supportive of Israel. At the same time, I think you can be really supportive of Israel and not look at it as a black-and-white situation.
~Darren Star






Link:

I never did theater. I was a theater major at USC my first year because I didn't get into the film school. I was biding my time, hoping to be accepted to film school, and I ended up transferring to UCLA my sophomore year.
~Darren Star






Link:

I think people have this sort of idea that 'Sex and the City' was this overnight sensation, and that can't be farther from the truth.
~Darren Star






Link: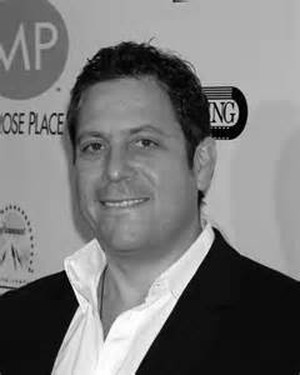 Find Darren Star on Ebay!
Share:
Permalink:

Browse: